Altar Flowers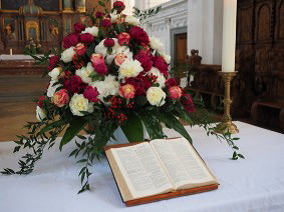 ALTAR FLOWERS
Honor Someone or an Events with Altar Flowers
If you are interested in donating flowers for Sunday Worship Services, please sign the Altar Flower form located by the Elmeer door. If you will be taking the flowers home after the last service, please note on the form.
Cost: $60, payable to Munholland UMC, on memo line write altar flowers. Payments can be made at church office, placed in the offering plate, or on our website.
Contact: Natalie DiPasquale or 504.834.9910 if you have any questions.